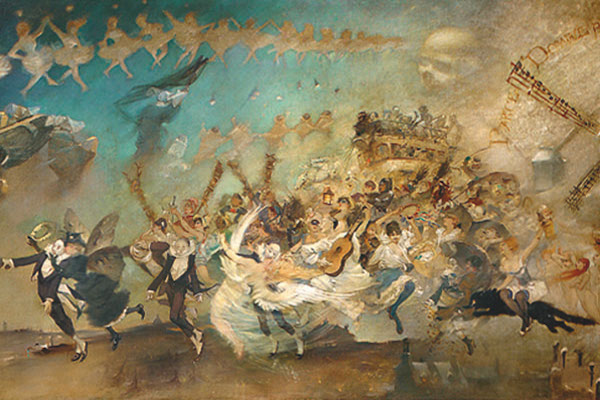 The permanent collection presented here will immerse you in the history of Montmartre and reveal its rich culture. During the 19th century, the landscape of Montmartre began to change. The mills stopped their activity and the vineyards slowly disappeared due to urbanisation. In 1860, Montmartre was annexed to the city of Paris. From this moment on the city imposed itself on the countryside of Montmartre.
Artists started to move to Montmartre in 1870 and the cafes and cabarets multiplied in the 1880's. What quickly came to characterise Montmartre in the eyes of everyone was this effervescent bohemian spirit, a creative energy.
The most celebrated cabaret, the Chat Noir, welcomed several performances of the Théâtre d'Ombres, shadow theatre, created in 1866 by Henri Rivière and Henry Somm. At the end of 1887, with the success of the Tentation de Saint-Antoine, Rivière managed to transform a small shadow show into an extraordinary technical and elaborate artistic performance.
Theatre, music, circus and dance all had a role in Montmartre. All of Paris came to listen to Aristide Bruant or Yvette Guilbert recite their texts or attend a performance by La Goulue, La Môme Fromage ou Grille d'Egouts, three dancers at the Moulin Rouge. Toulouse-Lautrec was one of the more assiduous artists in representing these performances.
This effervescent bohemian spirit was also present in the artists' studios : 12 Cortot witnessed the passage of several, most of whom lovingly painted their residence. Located not far away, the Bateau-Lavoir workshop welcomed artists who became great names of art history, amongst them Le Douanier Rousseau, Picasso and Modigliani.