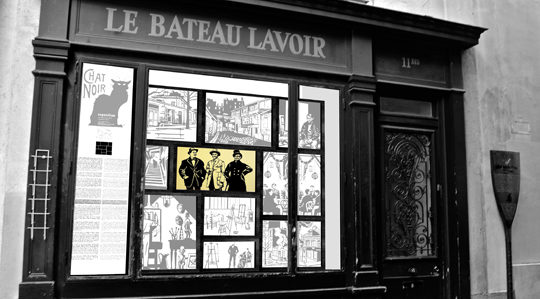 ACCESS
Where to find the Bateau-Lavoir ?
13, PLACE EMILE GOUDEAU
75018 PARIS
 : ABBESSES (Line 12)
MONTMARTROBUS : ABBESSES STOP
 The "Bateau-Lavoir" was the most famous place for artistic creation in Montmartre. From 1889, it was principally known as an artist's residence: a place to live and discuss for many painters, writers, actors and art sellers.
Pablo Picasso developed the basis of the cubism movement and created "Les Demoiselles d'Avignon" there but it was also the home and workplace of Kees Van Dongen, Juan Gris, Max Jacob and Modigliani. Since the fire of 1970, all that remains to recall this historical location is a shopfront on the Emile Goudeau place, 13 Ravignan street.